Dubblaja: Remixing Landscapes through Soundscapes
Dubblaja: Arabic for mixing and re-recording new soundtracks to existing films.
دبلجة: إعادة بناء المناظر العامة من خلال الصوت
.دبلجة: كلمة عربية لمزج وإعادة تسجيل الموسيقى التصويرية الجديدة للأفلام الموجودة
On this special evening, 3 independent artist collectives curated by Salwa present live sound scores through spoken word and digital noise inspired by travel images from Eye's collection. Followed by a Q&A.
This evening, a group of sound performers give live performances to silent films from the Eye collection. Through sound and video remix, the artists curated by Salwa deconstruct the colonial representations of the Middle East. They reclaim the narrative.
Performances by: Syphard Willem, Neusa Gomes, Kujo and Mhamad Safa and Blood of a Pomegranate.
DUTCH>>
Dubblaja: een remix van landschappen door middel van soundscapes. Op deze speciale live avond voeren 3 kunstenaarscollectieven van Salwa Foundation spoken word-performances op bij reisbeelden uit de Eye-collectie. Inclusief Q&A met elk van de collectieven.
🎶 Programma:
▪ Kujo is het soloproject van K Choueiri, een multidisciplinaire Libanese kunstenaar, labeloprichter en mastering engineer. Met noise, drone en oosterse drums gaat hij de confrontatie aan.
▪ Mhamad Safa is een architect, componist en onderzoeker uit Beiroet en Londen. Zijn debuutalbum the subleties of elevated things verscheen in 2018 op Modular Mind.
▪ Syphard Willem werd geboren op Curaçao en heeft een zeer gevarieerde selectie van nummers uitgebracht, waaronder hiphop, R&B, club, reggae, dancehall, trap en zouk maar hij is vooral een allround muziekliefhebber.
▪ Neusa Nena Gomes won de eerste prijs van de El Hizra Poëziewedstrijd en maakte haar debuut in 2015. Ze blinkt uit in poëzie en spoken word.
▪ Blood of a Pomegranate is het sonische kunstproject van de in Nederland gevestigde Armeense muzikant Tigran Harutyunyan. Het project gebruikt geluid en performance om thema's als imperialisme, genocide, oorlog en de sociale structuren die tussen de mensheid vandaag en haar toekomstige zelfbevrijding staan, te onderzoeken.
في هذه الأمسية الخاصة، تقدم 3 مجموعات فنية مستقلة برعاية سلوى مقطوعات صوتية حية من خلال الكلمات المنطوقة والضوضاء الرقمية المستوحاة من صور السفر من مجموعة ايي. تليها أسئلة وأجوبة.
هذا المساء، قدمت مجموعة من فناني الأداء عروضاً حية لأفلام صامتة من مجموعة متحف ايي. من خلال دمج الصوت والفيديو، قام الفنانون برعاية سلوى بتفكيك التوكيلات الاستعمارية للشرق الأوسط. إنهم يستعيدون السرد.
إعداد العروض: سيفارد ويليم، نوسا جوميز، كوجو ومحمد صفا و دم الرمان.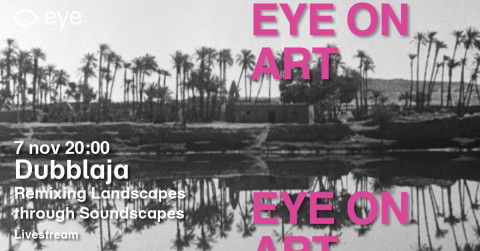 Date
07 November 2020 at 20:00
to 07 November 2020 at 23:00