Ma'rad Art Exhibition
Ma'rad is an exhibition that brings to you artworks from 15 established and emerging artists.
معرض للفنون
"معرض" هو معرض يقدم لك أعمالًا فنية من 15 فنانًا متمكناً وناشئًا.
What brings these works together in one space is their state (of existence) during convergent periods of time. Each one of them, whether it is material or code, manifests an act of creation through exchanging and interacting with life-now, using different tools and disciplines; experimenting, learning and producing different artistic outcomes, and establishing their relevance to our critical times, each in its own way. It happens, that the creators come from one place called Syria.
It is one of the exhibition aims to represent a suggestion for a wider perspective in political engagement, far from stereotyping, quotas and hidden agendas. Each work represents a completely independent identity, a strong tendency to self-expression and unique formula of its own, leaving the binding ingredient to be the individuality and autonomy of the artists, making space to share a true experience and build honest communication bridges.
Yara & Mazen
Featuring*:
Talal Abbas
Mazen Alashkar
Fadi Al-Hamwi
Raafat Ballan
Marrow Falioun
Ramy Ghanem
Sulafa Hijazi
Ayham Jabr
Nidal Jalouk
Mo Mouselli
Hala Namer
Yaser Safi
Yara Said
Giath Taha
Huda Takriti
Hussein Tarabai
Organised and curated by*:
Mazen Alashkar
Nanna Kassenaar
Kim Prins
Mette Samkalden
Nina Schmitz
Selwyn Senatori
Yara Said
Also in the same day, an artist talk with Berlin based artists Sulafa Hijazi and Fadi Al Hamwi:
https://www.facebook.com/events/1430777400397064/
*In alphabetical order
ما يجمع هذه الأعمال معًا في مكان واحد هو وجودها خلال فترات زمنية متقاربة. كل واحد منهم، سواء كان مادة أو رمز، يظهر فعل الخلق من خلال التبادل والتفاعل مع الحياة الآن، استخدام أدوات وتخصصات مختلفة؛ التجربة والتعلم وإنتاج مخرجات فنية مختلفة، وإثبات صلتها بأوقاتنا الحرجة، كل على طريقته الخاصة. يصادف أن المبدعين أتوا من مكان واحد يسمى سوريا.
إنه أحد المعارض التي تهدف إلى تقديم اقتراح لمنظور أوسع للمشاركة السياسية، بعيدًا عن النمطية والحصص و الأجندات الخفية. يمثل كل عمل هوية مستقلة تمامًا، وميلًا قويًا للتعبير عن الذات و صيغة فريدة خاصة به، أن يبقي على صفاته ليكتسب الفنان الفردية والاستقلالية، مما يوفر مساحة لمشاركة تجارب حقيقية وبناء جسور اتصال صادقة.
يارا ومازن
تتميز*:
طلال عباس
مازن الأشقر
فادي الحموي
رأفت بلان
مرو فاليون
رامي غانم
سلافة حجازي
ايهم جبر
نضال جلوك
مو موسيلي
هاله نمر
ياسر صافي
يارا سعيد
جياث طه
هدى تكريتي
حسين طربيه
من تنظيم ورعاية *:
مازن الأشقر
نانا كاسينار
كيم برينز
ميت سامكالدين
نينا شميتز
سلوين سيناتوري
يارا سعيد
وفي نفس اليوم أيضًا، تتحدث فنانة مع الفنانين المقيمين في برلين سلافة حجازي و فادي الحموي:
https://www.facebook.com/events/1430777400397064/
*بالترتيب الأبجدي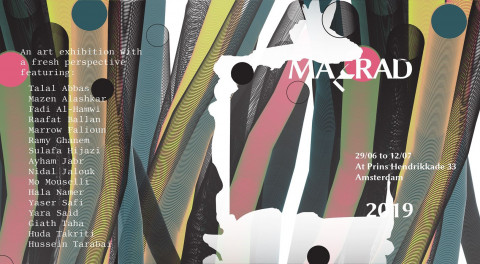 Date
29 June 2019 at 14:00
to 12 July 2019 at 22:00