Play With Your Food! With Aida El-Oweidy
The kitchen is your playground in this workshop with Aida El-Oweidy.
العب مع طعامك! مع عايدة العويدي
.المطبخ هو ملعبك في هذه الورشة مع عايدة العويدي
What stories can we extract from the recipes of our past and what recipes can we write for our future? Can the recipe format be used as a manifesto or a map? A poem or a novel? A magic spell?
Can we use the loose and open format of a recipe to explore our relationship to our communities, our realities, and our identity? Can we use culinary linguistics to think about what borders have been drawn up between us?
Recipes are like stories or legends and are built up and rewritten through the work of many hands over many generations. Aida Hamed El-Oweidy invites you to participate in this process looking into the possibilities of the recipe format and its potential to become a piece of creative writing.
ABOUT AIDA>>
Aida is an illustrator, animator, storyteller based in Cairo. This workshop is carried out as a part of the University of the Underground research bureau Turquoise Desert. The 'Turquoise Desert' research group brings together multidisciplinary practitioners and researchers investigating convivial practices and gatherings involving water. The University of the Underground supports unconventional practices, plurality of thinking, and free and transnational teaching.
ما هي القصص التي يمكننا استخلاصها من وصفات ماضينا وما هي الوصفات التي يمكننا كتابتها لمستقبلنا؟ هل يمكن استخدام تنسيق الوصفة كملف بيان أو خريطة؟ قصيدة أم رواية؟ تعويذة سحرية؟ هل يمكننا استخدام التنسيق الفضفاض والمفتوح للوصفة لاستكشاف علاقتنا بمجتمعاتنا، وواقعنا، وهويتنا؟ هل يمكننا استخدام علم لغة الطهي للتفكير في الحدود التي تم رسمها بيننا؟
الوصفات تشبه القصص أو الأساطير ويتم إنشاؤها وإعادة كتابتها من خلال عمل العديد من الأيدي على مدى أجيال عديدة. تدعوك عايدة حامد العويدي للمشاركة في هذه العملية التي تبحث في إمكانيات شكل الوصفة وقدرتها على أن تصبح قطعة من الكتابة الإبداعية.
عن عايدة >>
عايدة رسامة وصانعة رسوم متحركة وراوية قصص مقيمة في القاهرة. تم تنفيذ هذه الورشة كجزء من مكتب أبحاث جامعة مترو أنفاق صحراء الفيروز. تجمع مجموعة البحث "صحراء الفيروز" ممارسين متعددي التخصصات وباحثين يبحثون في الممارسات والتجمعات الممتعة التي تنطوي على المياه. تدعم جامعة مترو الأنفاق الممارسات غير التقليدية، وتعددية التفكير، والتعليم المجاني العابر للحدود.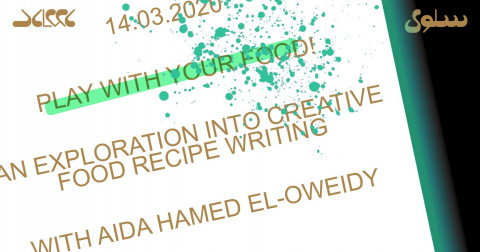 Date
14 March 2020 at 13:00
to 14 March 2020 at 17:00