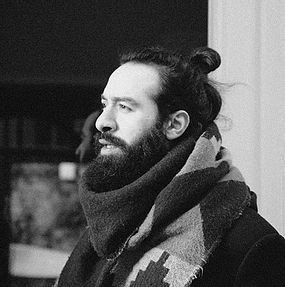 Fadi Al Hamwi
Visual artist
Fadi Al-Hamwi born in Damascus, Syria in 1986, graduated from the faculty of Fine Arts, Damascus in 2010,
majoring in Oil & Mural Paintings. Al-Hamwi is a painter, video and installation artist, who has participated in numerous solo exhibitions and produced many installations in several studios in Damascus, Beirut and Berlin. He has also shown his artwork at many exhibitions, festival and art fairs in Damascus, Beirut, Dubai, Montreal, London, Washington dc, Copenhagen, Paris, Brussels and Berlin. Al-Hamwi lives and works in Berlin, Germany.
فادي الحموي من مواليد دمشق سوريا عام 1986 وتخرج في كلية الفنون الجميلة بدمشق عام 2010،
تخصص في اللوحات الزيتية والجدران. الحموي رسام ومصمم فيديوهات وفنان نصب معدات، شارك في العديد من المعارض الفردية ونصب العديد من التركيبات في عدة استوديوهات في دمشق وبيروت وبرلين. كما عرض أعماله الفنية في العديد من المعارض والمهرجانات والمعارض الفنية في دمشق وبيروت ودبي ومونتريال ولندن وواشنطن العاصمة وكوبنهاغن وباريس وبروكسل وبرلين. الحموي يعيش ويعمل في برلين بألمانيا.