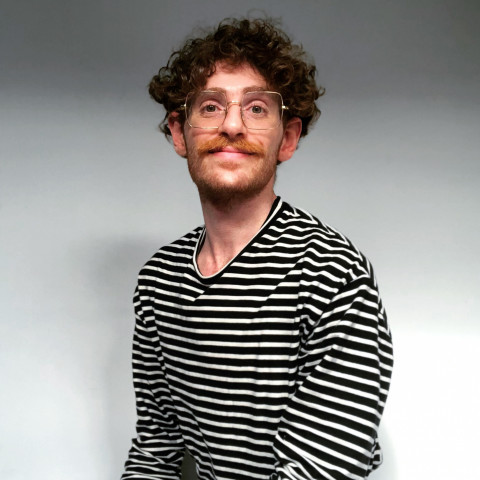 Riad Salameh
Executive Director
Riad Salameh (Lebanon, 1995) is a researcher and art practitioner with a graphic design, art mediation and media arts cultures background. His work often follows a praxis method that uses micro-transformations as to respond to the urgency of collective socio-economic transformations. Looking into the ownership of bodies in cyberspaces, investigating internet capital and physiological needs of the everyday, he critically investigates economies and its interlink to biopower. His interests relate to the abstraction of the physical and digital self through performance, web-navigation, irony, humor, migration and intimacy.
His method of working and researching is often ethnographic and it consists of meetings, walks, culinary performances and conversations (both online and offline) that are often transformed into an online database that documents the creative process through poetics and digital storytelling. It is important that his work evolves around creating safe, inclusive spaces that invite many people into art and design settings and giving them accessibility to learn and explore from it.
رياض سلامة (لبنان ، 1995) باحث وممارس فن لديه خلفية ثقافية في التصميم الجرافيكي والوساطة الفنية والفنون الإعلامية. غالبًا ما يتبع عمله أسلوبًا عمليًا يستخدم التحولات الجزئية للاستجابة للحاجة الملحة للتحولات الاجتماعية والاقتصادية الجماعية. بالنظر إلى ملكية الهيئات في الفضاء الإلكتروني ، والتحقيق في رأس مال الإنترنت والاحتياجات الفسيولوجية للحياة اليومية ، يبحث بشكل نقدي في الاقتصادات وترابطها مع الطاقة الحيوية. تتعلق اهتماماته بتجريد الذات المادية والرقمية من خلال الأداء ، والتنقل عبر الويب ، والسخرية ، والفكاهة ، والهجرة ، والعلاقة الحميمة.
غالبًا ما تكون طريقته في العمل والبحث إثنوغرافية وتتكون من اجتماعات ومسيرات وعروض طهي ومحادثات (عبر الإنترنت وغير متصل) والتي يتم تحويلها غالبًا إلى قاعدة بيانات عبر الإنترنت توثق العملية الإبداعية من خلال الشعر ورواية القصص الرقمية. من المهم أن يتطور عمله حول إنشاء مساحات آمنة وشاملة تدعو العديد من الأشخاص إلى إعدادات الفن والتصميم ومنحهم إمكانية الوصول للتعلم والاستكشاف منها.