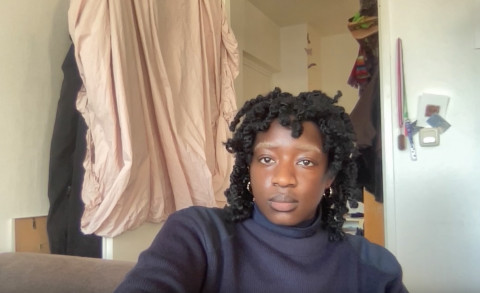 I am fascinated by the notion of an expanding archive that is bound to the cross-cultural exchange from which my non-singular being exist.
What does it mean to remember?
Are we aware of that hich we have forgotten? In the words of the Martiniquan writer and poet, Édouard Glissant this given is explained as a collective memory, a collective consciousness. The diaspora echoes throughout my written and spoken monologue that simultaneously, along with my environment, turns into a dialogue. Within my practice I came to use textile as a metaphor from which I reason my place as a participant or an observer through the notion of a surface which is used to disguise, but yet doesn't seem to disappear through the perceptible structure that it leaves behind. My gaze is a vital tool to identify and constitute this layered given and my making exists out of actively collecting imagery, poetry and literature to replicate my gaze into installations. Together with the viewer I want to recognize the echoes of the past to complete my and our future becoming.
إنني مفتونة بفكرة الأرشيف الموسع المرتبط بالتبادل بين الثقافات الذي يوجد منه وجودي غير المتفرد.
ماذا يعني التذكر؟
هل ندرك ذلك الذي نسيناه؟ على حد تعبير الكاتب والشاعر المارتينكي ، إدوارد جليسان ، فإن هذا المعطى يفسر على أنه ذاكرة جماعية ، وعي جماعي. يتردد أصداء الشتات خلال حديثي المكتوب والمنطوق الذي يتحول في نفس الوقت ، جنبًا إلى جنب مع بيئتي ، إلى حوار. من خلال ممارستي ، جئت إلى استخدام النسيج كاستعارة استنتجت من خلالها مكاني كمشارك أو مراقب من خلال فكرة السطح الذي يتم استخدامه للتمويه ، ولكن لا يبدو أنه يختفي من خلال البنية الملموسة التي يتركها. وراء. نظراتي هي أداة حيوية لتحديد وتشكيل هذا المعطى الطبقي ، وينتج عملي من جمع الصور والشعر والأدب بشكل نشط لتكرار نظرتي في التركيبات. أرغب مع المشاهد في التعرف على أصداء الماضي لإكمال صيرتي ومستقبلنا.