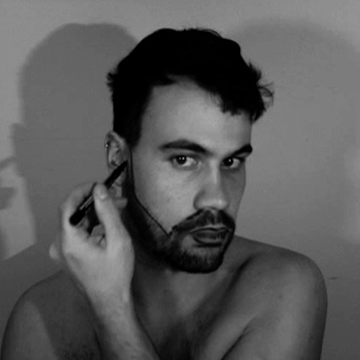 Pedro Matias (Lisbon - Portugal, 1984) is an Amsterdam-based visual and performance artist that aims to contextualize and facilitate new tanks of alternative knowledge, bridging philosophy, critical thinking, object, body, and space.
Pedro understands spaces (of intimacy) assembled in-between the familiar and the stranger - vulnerable, dependent, fragmented and multiple, inhabited by 'iridescent bodies'. Pedro attempts to facilitate fluid and caring supportive structures, as support of agitation and instability, always to empower the queer (human and more-than-human) potential for political action. Against fixity and stagnation Pedro searches for performativity in the matter and its agency while longing for a utopian intimate soft futurity.
Pedro holds an MFA from Sandberg Institute (Fine Arts Department) and is part of the living assemblage Driewieler Collectief. Pedro's individual and collaborative practices have been showing in The Netherlands, Portugal, Germany, France, UK, Greece, Switzerland, China, and the USA.
بيدرو ماتياس (لشبونة - البرتغال ، 1984) هو فنان مرئي وأداء مقيم في أمستردام ويهدف إلى وضع سياق وتسهيل مجموعات جديدة من المعرفة البديلة ، وفلسفة الجسور ، والتفكير النقدي ، والأشياء ، والجسم ، والفضاء.
يفهم بيدرو المساحات (الحميمية) المُجمَّعة بين المألوف والغريب - الضعيفة والمعتمدة والمجزأة والمتعددة التي تسكنها "أجسام قزحية الألوان". يحاول بيدرو تسهيل الهياكل الداعمة السائلة والعناية ، كدعم للتحريض وعدم الاستقرار ، دائمًا لتمكين إمكانات الكوير (البشرية وأكثر من الإنسان) للعمل السياسي. ضد الثبات والركود ، يبحث بيدرو عن الأداء في هذه المسألة ووكالتها بينما يتوق إلى مستقبل يوتوبي ناعم وحميم.
بيدرو حاصل على ماجستير في الفنون الجميلة من معهد ساندبرج (قسم الفنون الجميلة) وهو جزء من المجموعة الحية Driewieler Collectief. تم عرض ممارسات Pedro الفردية والتعاونية في هولندا والبرتغال وألمانيا وفرنسا والمملكة المتحدة واليونان وسويسرا والصين والولايات المتحدة الأمريكية.