Basket Case 1: Gathering Resources & Reconnecting in a Pandemic
...
باسكت كايس 1: إعادة الاتصال في الجائحة
Framer Framed and Salwa Foundation invite you to a reversed new kind of reading room, a collective "basket" where the aim is to collect knowledge and resources to grapple with our times in a more democratic and participatory way. In this online gathering room, we will explore how the global pandemic has affected our ways of working and interacting with others.
We can not only read a text, but we can also read a room. We can read the stars. We can read someone's face. We can read images. We can trace a line with our fingertips, write a manifesto on our phones. So much has been written about our current condition. However, instead of starting with existing texts and the analysis of experts, we would like to work with your lived experience of these times. What do you see, feel, touch, notice, smell, taste? How is our daily life affected by the pandemic?
How can we connect with each other? How can we work together, protest together, express solidarity?
What is the new order that you would want to create?
How will artistic practices that rely on tangibility and senses change?
How can you organise collectivity when you are unable to meet in person? How can we create new forms of intimacy and gathering?
Together we will explore different modes of reading and processing through discussion and group exercises, which will be announced to participants on a weekly basis. The 'basket case' will end in weaving a hybrid text, a publication that brings together the different resources.
تدعوك مؤسسة فارمد فريمد و سلوى إلى غرفة قراءة من نوع جديد، وهي "سلة" جماعية حيث الهدف هو جمع المعرفة والموارد للتعامل مع عصرنا بطريقة أكثر ديمقراطية وتشاركية. في غرفة الاجتماع هذه التي ستكون عبر الإنترنت، سوف نكتشف كيف أثر الوباء العالمي على طرق عملنا والتفاعل مع الآخرين.
لا يمكننا قراءة النص فحسب، بل يمكننا أيضًا قراءة الغرفة. يمكننا قراءة النجوم. يمكننا قراءة وجه شخص ما. يمكننا قراءة الصور. يمكننا تتبع خط بأطراف أصابعنا، وكتابة بيان على هواتفنا. لقد كُتب الكثير عن حالتنا الحالية. ومع ذلك، بدلاً من البدء بالنصوص الحالية وتحليل الخبراء، نود العمل مع تجربتك الحية في هذه الأوقات. ماذا ترى، تشعر، تلمس، تلاحظ، تشم، تتذوق؟ كيف تتأثر حياتنا اليومية بهذا الوباء؟
كيف نتواصل مع بعضنا البعض؟ كيف يمكننا العمل معًا، والاحتجاج معًا، والتعبير عن التضامن؟
ما هو النظام الجديد الذي ترغب في إنشائه؟
كيف ستتغير الممارسات الفنية التي تعتمد على الأشياء الملموسة والحواس؟
كيف يمكنك تنظيم العمل الجماعي عندما لا تتمكن من الاجتماع وجهًا لوجه؟ كيف يمكننا خلق أشكال جديدة من المودة والتجمع؟
سنكتشف معًا طرقًا مختلفة للقراءة والمعالجة من خلال المناقشة والتمارين الجماعية، والتي سيتم الإعلان عنها للمشاركين على أساس أسبوعي. ستنتهي "باسكت كايس" بنسج نصوص، كتاب يجمع الموارد المختلفة.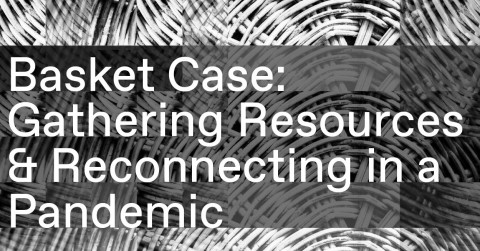 Date
12 June 2020 at 17:00
to 12 June 2020 at 19:00