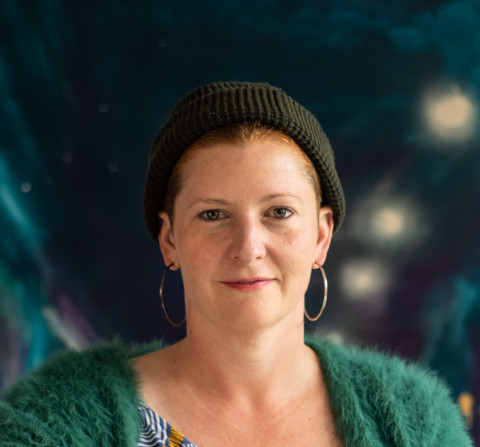 Shailoh Phillips
Co-Founder and former program manager
شايلوه فيليبس
مطورة برامج وشريكة مؤسِسة
Shailoh Phillips (1979, USA) is a polymash media artist, researcher, and educator. Her practice revolves around fostering playful forms of resistance, seeking out pressure points to act in the face of social inequalities and unfolding ecological disasters. She never really stops learning, which is part of why she has a passion for creating a stimulating learning environment.
Over the past decade, she has been cultivating a practice of constructive troublemaking and community organizing. Experimental education is a major part of her practice, and she enjoys seeping between disciplines of design, photography and social practice. The tools for her work vary and are often digital-physical hybrids, including interactive installations, performance, video, inflatable sculpture, creative writing, animation, photography, and re-purposed machines. She is also an experienced interviewer and moderator for cultural events.
At Studio Babel in Amsterdam, she runs a community-based library of books and materials on the top floor of the former squat and autonomous collective Kostgewonnen. Previous collaborations include the international Tools for Action artist group, working with inflatable sculptures in collaboration with protest movements. Before going independent, she worked in the cultural field in multiple roles – as a game designer, screenwriter for television (VPRO), as the Media Lab manager at the Rijksmuseum, and in digital arts education.
Originally trained in Cultural Anthropology, Philosophy, and Cultural Analysis (University of Amsterdam, Humboldt University), she has spent the past decade working in the field of digital media and design education. In 2016, she co-founded Studio Yalla, offering support and studio space to artists restarting their lives in the Netherlands. She holds an MA Education in Arts and Design (Piet Zwart Institute), teaches at Willem de Kooning Academy, and at the MA Photography & Society at KABK.
(ولدت في عام 1979 ، الولايات المتحدة الأمريكية) هي فنانة إعلامية متعددة الثقافات وباحثة. تتمحور ممارستها حول تعزيز أشكال المقاومة السلمية، تبحث عن الحلول في مواجهة التفاوتات الاجتماعية والكوارث البيئية. لم تتوقف يوما عن تعلم شيء جديد، ولهذا السبب لديها الشغف لخلق بيئة تعليمية محفزة.
على مدار العقد الماضي، كانت تحث عن النقد البنّاء وتنظيم المجتمع. إن ممارسة التجارب المختلفة هو جزءً أساسي من ممارستها، وهي تستمتع بالتنقل بين تخصصات التصميم والتصوير والممارسة الاجتماعية. تتنوع أدوات عملها وغالبًا ما تكون بين الرقمية والمادية، بما في ذلك الرسوميات التفاعلية، والفيديو، والمنحوتات القابلة للنفخ، والكتابة الإبداعية والمتقنة، والرسوم المتحركة، والتصوير الفوتوغرافي، والآلات المعاد تصميمها. وهي أيضًا مُتحدثة متمرسة ومنسقة للفعاليات الثقافية.
في ستوديو بابل في أمستردام، تدير مكتبة اجتماعية من الكتب والمواد في الطابق العلوي من كوست جيوونين حيث يمكنك استعارة الكتب مجانا. وهي أيضا تتعاون مع مجموعة الفنانين الدولية تولز فور اكشنز، التي تعمل على منحوتات قابلة للنفخ بالتعاون مع حركات الاحتجاج. قبل أن تستقل بعملها، عملت في المجال الثقافي في مختلف المجالات كمصممة ألعاب، وكاتبة سيناريو للتلفزيون VPRO, ومديرة مختبر المواد الفنية في متحف ريجكس ، وفي تعليم الفنون الرقمية.
تدربت في الأصل في الأنثروبولوجيا الثقافية والفلسفة والتحليل الثقافي (جامعة أمستردام ، جامعة هومبولت) ، وقد أمضت العقد الماضي في العمل في مجال الإعلام الرقمي وتعليم التصميم. في عام 2016 ، شاركت في تأسيس استوديو "يلا" ، حيث يقدم الاستوديو الدعم ومساحة الاستوديو للفنانين. وهي حاصلة على ماجستير في الفنون والتصميم (معهد بيت زوارت) ، وتُدرس في أكاديمية فيليم دي كونينج، وفي ماجستير التصوير الفوتوغرافي والمجتمع في KABK.