VJing and 3D Mapping Techniques
A workshop with Frouke Ten Velden.
العروض البصرية وتقنيات رسم الخرائط ثلاثية الأبعاد
ورشة عمل مع فروك تن فيلدن.
If you are interested in having an insight into Live Visuals Performance and video-mapping, VeeJaying and video-mapping with Resolume or working with bands, musicians, artist & performers (Dance/theatre) then you are welcome to be part of our workshop with Frouke Ten Velden.
TO CHECK FROUKE'S WORK :
www.frouketenvelden.com
Instagram : Frouke_ten_Velden___
The workshop consists of two days (12 and 31 August) from 19:00 till 22:00. During the first day of the workshop the participants will be introduced to:
The work of Frouke (hows and whats)
VeeJaying
Resolume and the advanced output (video-mapping)
Also participants will get an assignment in form of a performance, AV-piece, music video or video-mapping installation with soundscape. This assignment is what participants have to prepare alone or in teams for the second day of the workshop on the 12/August/2018.
/// Requirements ///
➝ A laptop
➝ Resolume Arena 6 -trial installed
➝ DXV codec & alley player installed -free
DOWNLOAD HERE: https://resolume.com/download/
إذا كنت مهتمًا بالحصول على نظرة ثاقبة حول أداء المرئيات الحية ورسم خرائط الفيديو، العروض البصرية ورسم خرائط الفيديو مع ريزوليوم أو العمل مع الفرق الموسيقية والموسيقيين والفنانين وفناني الأداء (الرقص / المسرح)، فأنت مرحب بك لتكون جزءًا من ورشة العمل الخاصة بنا مع فروك تين فيلدين.
للتحقق من عمل فروك:
www.frouketenvelden.com
انستقرام: Frouke_ten_Velden___
تتكون ورشة العمل من يومين (12 و 31 اغسطس) من الساعة 19:00 حتى 22:00. خلال اليوم الأول من ورشة العمل سيتم تعريف المشاركين على:
عمل فروك (كيف وماذا)
العروض البصرية
ريزوليوم وعمليات الاخراج المتقدمة (عملية عرض الفيديو)
سيحصل المشاركون أيضًا على مهمة على شكل عرض، أو مقطع صوتي، أو فيديو موسيقي، أو تثبيت خرائط فيديو مع مشاهد صوتية. هذه المهمة هي ما يجب على المشاركين تحضيره بمفردهم أو مع فريق في اليوم الثاني من ورشة العمل في 12 / أغسطس / 2018.
/// متطلبات ///
➝ كمبيوتر محمول
➝ قم بتثبيت ريزوليوم ارينا 6 - ترايل
➝ برنامج ترميز DXV وتثبيت "مشغل ألي" - مجاني
قم بالتحميل هنا: https://resolume.com/download/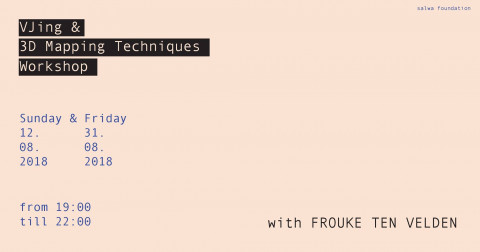 Date
12 August 2018 at 19:00
to 12 August 2018 at 22:00