Resilient Grounds, Nurturing Soil
SALWA's second Gathering at Casco Art Institute opens up conversations around how to create long-lasting infrastructures or models of care
Resilient Grounds, Nurturing Soil
SALWA's second Gathering at Casco Art Institute opens up conversations around how to create long-lasting infrastructures or models of care
To be able to enjoy the fruits of our labour in the future, we need to lay the groundwork and prepare the soil. After an exciting first Gathering Roots & Routes, SALWA returns with Resilient Grounds. A two-day event opening up conversations about how to create long-lasting infrastructures or models around care, so that we can collectively find joy and flourish, starting from the premise that one needs to be where one can grow roots.
How can one deal with hard and rotten soil where the old roots are still in place? What kind of meeting grounds can we bring into being from where we can collectively articulate, explore, and challenge the current realities we are facing?
The two-day program will unfold around practices that demand, as is the case with the delicate work of replanting, tender hands that can bring about nourishment and understanding. For our work with artists that are new in the Netherlands and who have often gone through traumatic experiences, it is important to have conversations about resilience, care for the self and community, survivor guilt, and solidarity. Within the building of Casco Art Institute: Working for the Commons we come together around performances, talks and an exhibition.
Tickets are on donation, all donations are to support our growing community.
Tickets and Further information
Money should never be in the way of your attendence, if you cannot afford a ticket please email hello@salwa.nl
لكي نتمتع بثمار عملنا في المستقبل ، نحتاج إلى إرساء الأساس وإعداد التربة. بعد أول تجربة مثيرة لمجموعة Roots & Routes ، تعود SALWA مع Resilient Grounds. حدث لمدة يومين يفتح محادثات حول كيفية إنشاء بنى تحتية طويلة الأمد أو نماذج حول الرعاية ، حتى نتمكن بشكل جماعي من العثور على الفرح والازدهار ، بدءًا من فرضية أن المرء يجب أن يكون حيث يمكن للمرء أن ينمو جذوره.
كيف يمكن التعامل مع التربة الصلبة والفاسدة حيث لا تزال الجذور القديمة في مكانها؟ ما نوع قواعد الاجتماع التي يمكننا تحقيقها من حيث يمكننا بشكل جماعي التعبير عن الحقائق الحالية التي نواجهها واستكشافها وتحديها؟
سيتكشف البرنامج الذي يستغرق يومين حول الممارسات التي تتطلب ، كما هو الحال مع العمل الدقيق المتمثل في إعادة زراعة الأيدي الرقيقة التي يمكن أن تؤدي إلى التغذية والفهم. بالنسبة لعملنا مع الفنانين الجدد في هولندا والذين مروا في كثير من الأحيان بتجارب مؤلمة ، من المهم إجراء محادثات حول المرونة والعناية بالذات والمجتمع وشعور الناجين بالذنب والتضامن. داخل مبنى Casco Art Institute: العمل من أجل العموم ، نجتمع معًا حول العروض والمحادثات والمعرض.
التذاكر متاحة للتبرع ، كل التبرعات لدعم مجتمعنا المتنامي.
(الرابط: https://www.eventbrite.com/e/resilient-grounds-nurturing-soil-tickets-323911537127 نص: تذاكر ومزيد من المعلومات)
يجب ألا يكون المال في طريق حضورك أبدًا ، إذا كنت لا تستطيع شراء التذكرة ، فيرجى إرسال بريد إلكتروني إلى hello@salwa.nl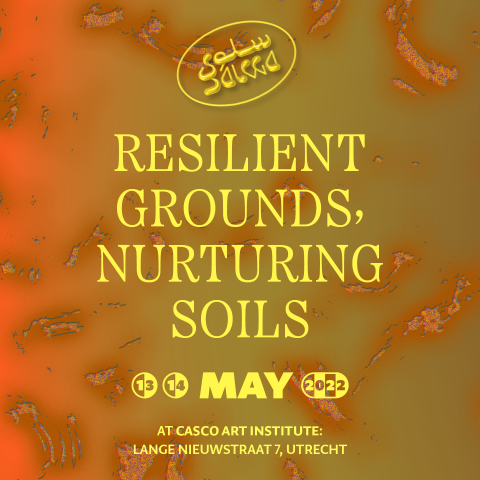 Date
13 May 2022 at 14:00
to 14 May 2022 at 23:00