Artist Talk with Sulafa Hijazi and Fadi Al Hamwi
An afternoon with Berlin based artists Sulafa Hijazi and Fadi Al Hamwi
حديث مع الفنانين سلافة حجازي وفادي الحموي
حوار بعد الظهر مع الفنانين سلافة حجازي و فادي الحموي من برلين.
Salwa Foundation is delighted to invite you to an afternoon with Berlin based artists Sulafa Hijazi and Fadi Al Hamwi, where you will get the chance to explore their practice and can take a look at their works that will be presented as part of Ma'rad Exhibition.
Moderated by:
Mazen Alashkar
يسر مؤسسة سلوى أن تدعوكم لقضاء فترة ما بعد الظهيرة مع الفنانين المقيمين في برلين، سلافة حجازي و فادي الحموي، حيث ستتاح لك الفرصة لاستكشاف ممارساتهم وإلقاء نظرة على أعمالهم التي سيتم تقديمها كجزء من معرض معاد.
بإشراف من:
مازن الأشقر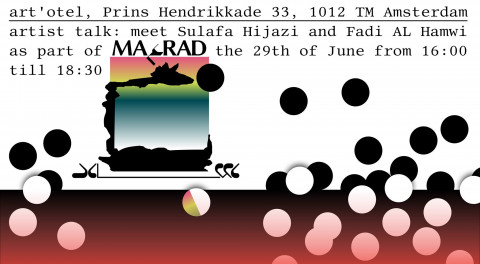 Date
29 June 2019 at 16:00
to 29 June 2019 at 18:30