Houses Without Doors by Avo Kaprealian
A Moviemento film screening.
منازل بلا أبواب لِآفو كابرياليان
موفمينتو تقدم عرض لفيلم منازل بلا أبواب
Synopsis
The film portrays the changes in the life of an Armenian family in one of the Aleppo's most heavy frontlines, "Al Midan", an area that brought shelter to the Armenians who survived the Genocide 100 years ago and today to many displaced Syrians. Following an experimental approach, the director films with small cameras the changes in his neighborhood and his own family, mostly from the balcony of their home, interweaving his images with extracts from classical films to illustrate parallels between the Armenian genocide and Syrians' reality today, and to pay attention to the idea of what can be shown and what not.
Trailer Link
https://www.youtube.com/watch?v=ltp0IyUpXEY&ab_channel=Bidayyat
ملخص
يصور الفيلم التغييرات التي طرأت على حياة عائلة أرمنية في واحدة من أكثر الجبهات كثافة في حلب، "الميدان"، وهي منطقة جلبت المأوى للأرمن الذين نجوا من الإبادة الجماعية قبل 100 عام واليوم للعديد من النازحين السوريين. باتباع نهج تجريبي، يصور المخرج بكاميرات صغيرة التغييرات في حيه وعائلته، ومعظمها من شرفة منزلهم، تتشابك صوره مع مقتطفات من الأفلام الكلاسيكية لتوضيح أوجه التشابه بين الإبادة الجماعية للأرمن وواقع السوريين اليوم، والاهتمام بفكرة ما يمكن عرضه وما لا يمكن عرضه.
رابط العرض التشويقي للفيلم
https://www.youtube.com/watch?v=ltp0IyUpXEY&ab_channel=Bidayyat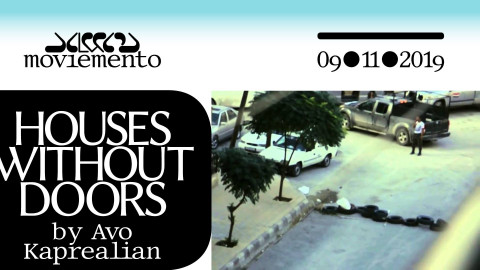 Date
09 November 2019 at 19:00
to 26 March 2021 at 22:00